The Definitive Resource on Vintage Porsche Lighting
Welcome to the Audette Collection website – grab a beverage and look around a bit. The goal here is to provide in-depth accurate information on early Porsche lighting for fellow Porsche enthusiasts and to give you complete information on Audette Collection's suite of world-class restoration services for vintage Porsche lighting.

Audette Collection Restoration Services: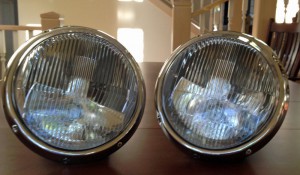 "I received my lights today….wow what can I say they look spectacular! Thanks again for the great communication and quick turn around! I know of many businesses that could take some lessons from you! Thanks again for everything. All of us pre-90's Porsche fans are appreciative!"
Chris, Florida 10/3/16
It all started with BOSCH H1's. I first installed a pair on a '67 SWB 911 (nicknamed Stubby) my all time favorite Porsche out of the 30 or so Porsches that I have owned. I built Stubby as a rally car using specifications published by Porsche in 1968  As you know, rally cars had prolific lighting – maybe that's why I like them so much.
I usually installed H1's on all of my longhoods, short wheel base (SWB) and long wheel base (LWB). The problem was they were hard to find and usually required restoring. I looked around for someone to do it and couldn't find anyone. So I started to figure them out for myself. Soon fellow enthusiasts asked me if I would restore their H1's for them, one thing led to another, and I ended up starting this small business devoted to Porsche lighting. Starting with the H1's it expanded to other SWB lighting, to turn signals and recently to offering LED headlights for all 911's and 912's built from 1965-1994.

I concentrated on SWB lighting because they are my favorite Porsches. I have owned several – restored them, raced them (poorly), shown them (and won) at major concours levels and, most fun of all, cruised around most of Central Oregon's great driving roads.
My main activity with SWB Porsche's now is the restoration and refurbishment for fellow enthusiasts of Bosch H1 & H4 headlamps, U.S. and Euro (RoW) SWB 911 headlights and turn signals. Restoration is done to a high standard suitable for high-end concours cars. Many of my customers become friends – here are a couple comments as published in the Early 911S Registry website:
"John has done several sets of H1's for me and I will gladly vouch for his work. His attention to perfection is outstanding! " Doug, Kansas City, MO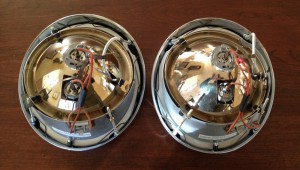 "My first set of H1's were from John, and he has two more sets in process for me now – great work." "I've just received the second two sets and let me say they are fabulous – incredible work." Kevin, Newport Beach, CA
I'm really excited about being able to offer LED headlights for plug and play installation on 1965-1994 Porsches. The difference between LED headlights and even the best halogen lights is simply stunning. After driving with LEDs it feels as essential to have them for safety as seat belts.  Take a moment to look over the LED section of the website for more information.
Audette Collection Restoration Services:
Thanks for visiting!
---

© 2001 – 2016 ~ Audette Collection ~ Sisters, Oregon
Concours Restorations of Porsche SWB Headlights, Turn Signals, H1's & H4's ~ Email