---
! NEW AUDETTE COLLECTION ONLINE STORE !
All AC Products & Services Immediately Available for Purchase
The Definitive Resource for Vintage Porsche Lighting, Air Cooled Porsche Lighting Parts & LED Headlight Assemblies

Audette Collection, founded in 2001, is the largest restoration shop for vintage Porsche lights in the U.S., specializing in 911's manufactured during the longhood era, 1965-1973, the golden age of Porsches. Specializing in: Bosch H1, Bosch H4, original factory lights: U.S. Hella sealed beams and Euro reflector lamps, SWB and LWB turn signals and brake lights. We also restore specialty headlights, such as Cibié Bi-Iode and Marchal Amplilux.
Audette Collection is a also leading innovator and manufacturer of LED headlights for air-cooled Porsches through the 964, 1965-1993.
In November, 2019, we opened the AC Online Store providing Best in Class parts for air cooled Porsche at Best in Show prices. We don't offer everything, just what we consider to be the best of the best. Stop by sometime!
Audette Collection Products & Services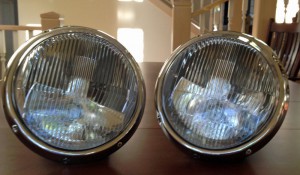 "I received my lights today….wow what can I say they look spectacular! Thanks again for the great communication and quick turn around! I know of many businesses that could take some lessons from you! Thanks again for everything. All of us pre-90's Porsche fans are appreciative!"
Thanks for visiting!
---

© 2001-2020 ~ Audette Collection ~ Sisters, Oregon
Concours Restorations of Porsche SWB Headlights, Turn Signals, H1's & H4's ~ Email