Welcome to Audette Collection
The Definitive Resource on Air Cooled Porsche Lighting for Over 20 Years
This site is drill down. Click on the menu items for extensive information on various components of early Porsche lighting.
How Audette Collection Started
Years ago, prior to the boom in interest and prices in the 1965-1973 F-Series (longhoods) Porsches, there was very little information to be found on early Porsche lighting. With the help of many members of the Early 911S Registry, I set about researching and compiling data. Which led to the creation of this website. My main interest was doing things correctly when restoring my own cars and I had many projects over time. Things organically grew into my eventually restoring vintage lighting parts for others and, recently, opening the AC SHOP which offers air cooled Porsche lighting services and products.
Bear with me. I've started revamping and updating this old reliable site to add information and minimize the commercial returning it the the information resource it was intended to be.
Use the extensive menu to find information about lighting for these fabulous cars.
Personal Background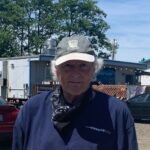 My name is John Audette – aka the air cooled Porsche lighting Anorak. Following several years as a Systems Consultant working with Fortune 500 companies during the client/server days, I was present and part of the birth of the internet. I founded one of the first internet marketing companies in 1994 that eventually grew to 100+ employees and was sold to a large traditional agency in London (Tempus Group). I have also founded and sold a number of other internet related companies.
I'm an aging but still passionate air cooled Porsche enthusiast and Audette Collection and the AC SHOP keep me busy now.

© 2001-2022 ~ Audette Collection / AC SHOP ~ Sisters, Oregon ~ Email