Personal Background


My name is John Audette – some call me the H1 Anorak. Following several years as a Systems Consultant working with Fortune 500 companies (during the client/server kluge days), I was an early Internet marketing pioneer. I founded one of the first Internet marketing companies in 1994 that eventually grew to 100+ employees and was sold to a large traditional marketing firm based in London. I founded one of the first online press release agencies which was eventually sold to internet.com. And a couple of other companies followed. Truly a great experience to be present at the creation of a technological revolution. There's more information than you will ever want to know about my Internet adventures at LinkedIn
Audette Collection
My present activity of restoring lights for early Porsches grew out of my involvement with these cars for 30+ years. I'm not sure why but I've always been fascinated with the early lights, particularly H1's. A few years ago I started installing them on all of my longhoods – they weren't that hard to find at that time. However it became increasingly difficult to find them as time went by and I found it necessary to rebuild cores. H1's are difficult to rebuild and restore as parts are not available and they have a lot of unique ones. Over time I became more proficient at the process. The major break-through was discovering the proper way of replating the lenses using vapor deposited aluminum. I offered my services to a couple of friends and it just kind of expanded out from there through organic growth.
Other Interests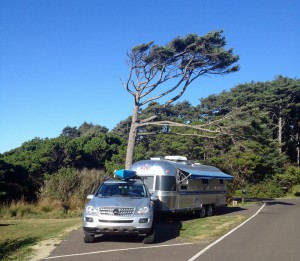 A couple of years ago I turned my attention to another form of rolling stock. I had had an itch to restore and travel around this great country of ours in a vintage Airstream for many years and I decided it was time to scratch it. I acquired a 1990 Airstream 25′ Excella travel trailer in outstanding condition. Just meeting the definition of 25 years old as being vintage, it was in exceptional condition. I've been fixing it up – and have traveled 5,000+ miles in it so far, spending five months on the road last winter covering much of the great Southwest.
I have the good fortune to live in Sisters, Oregon, a small town of 2,200 located in Sisters Country, a beautiful part of Central Oregon. Located at an elevation of 4000′, on the dry Eastern Slope of the Cascade Mountains and encompassing Bend, Sisters Country is not only a great climate for early Porsches — it's also a beautiful outdoor recreational wonderland for Airstreams!
---

© 2015-2020 ~ Audette Collection ~ Sisters, Oregon
Concours Restoration of Porsche SWB Headlights & Turn Signals, H1's & H4's ~ Email