Stubby – My All Time Favorite Porsche 911 Project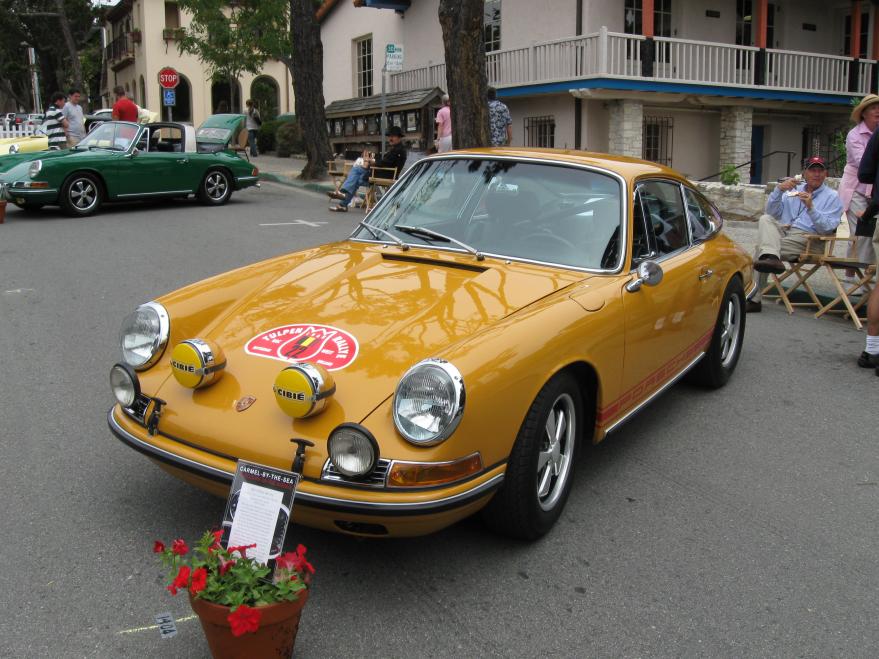 Winner First in Class 2009 Carmel Concours on the Avenue
1967 911 SWB Coupe – Factory Correct Sports Purposes Rally Build
VIN: 306607
Engine #: 909 846 (original aluminum case)
Transmission Number: 200176-902/0 (original 4-speed, on the shelf)
Color: Bahama Yellow / 6605 (original color)
Interior: Black (original color)
General Information
In March of 1968 Porsche published a bulletin entitled Information Regarding Porsche Vehicles Used for Sports Purposes that provided details, specifications and guidelines on building a car for competitive events such as rallying and circuit racing. This 1967 911 Coupe, VIN 306607, has been built following those specifications (with a few modern mechanical updates). The project started with a collision-free, and minimal rust California Black Plate car. Over 30 tubs were looked at before this one was chosen. A great deal of originality was maintained while many performance enhancements have been made with an emphasis on a recreation of a period correct rally or race car that would have been built by a privateer.
306607 was featured in the December, 2008 issue of Excellence Magazine in a well researched, well written (and accurate) article by Peter Linsky.
Modifications include:
Rally Accessories
306607 has been built as a period correct rally car built under the specifications in the March, 1968 Bulletin. This is a car that would have built by a privateer in late 1967 or 1968. Rally parts include:
NOS performance seats: race bucket for driver, performance sport seat for navigator

NOS under-carriage skid plates

NOS H-1 headlights

NOS hood mounted Cibies

NOS through-the-grille Bosch fog lights and grilles

NOS navigator map light

NOS 911R dead pedal

NOS 911R 7″ wheels on rear

6″ wheels on front ("deep 6's" with hearts)

NOS 100 liter fuel tank

Heuer Monte Carlo Timer Set

Rear wiper

Hood hold-down straps

NOS outside temperature gauge

5-speed with short gears

Period correct vintage Dunlop tires

Factory correct roll bar

Front mounted oil cooler

Full documentation:
Using the original aluminum case (a bit heavier but much stronger than magnesium), the engine has been rebuilt to single plug 2.7 liter specs by John Bunin of Werkstatt in Vista, California. Machine work was done by Competition Engineering:
New 2.7RS Mahle pistons and cylinders

Two 2.7S engines were purchased to find a perfect crank and rods

901 "Solex" cams

2.7S heads

2.7S valves

2.7S oil system

40mm PMO carburetors with 911R rain hats

Turbo valve covers

Billet aluminum pressure plate (EBS Stage 1) with 215mm clutch disc

Radiator style oil cooler, 12 quart dry sump system and polished Porsche oil lines

Mufflers: Monty (Australian built) stainless steel; Dansk stock; custom minimum baffle (straight-through)
The engine has dyno'ed at 220+ horsepower and 0-60 is – quick (but more fun on twisties).
Fabricated Oil Cooler Lines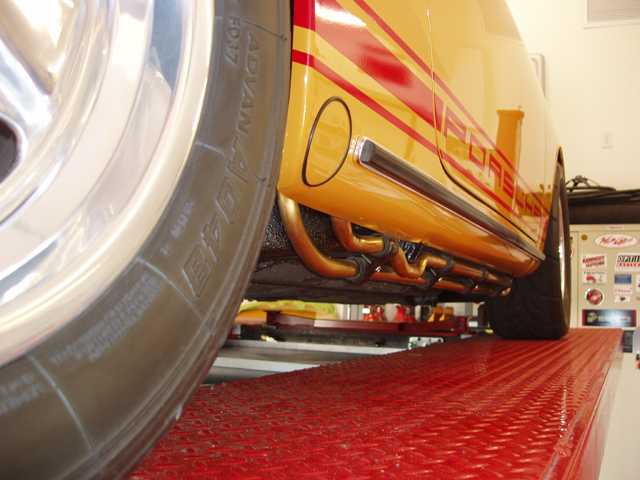 Transmissions
There are two transmissions:
Original 901 4-speed.

5-speed 901 with Porsche's traditional short gears: A-F-M-S-X. This transmission is used for street, track, autocross and rallies.
Suspension & Brakes
Modern suspension and brake upgrades, done by German Master Tech in Bend, Oregon include:
Front:
hollow torsion bars
Weltmeister 19mm sway bars
Carrera 3.2 calibers with Zimmerman vented rotors. A-arms with Koni struts (with Koni inserts) and cross members from a '73 911S were installed in order to accommodate the larger calipers.
Elephant Racing polybronze bearings
Strut brace
Turbo tie-rod ends
Dual circuit master cylinder
Rear:
Adjustable spring plates

Carrera 3.2 calibers in the rear with Zimmerman vented rotors using the great adapter kit made by Michael Moran of the Early 911S Registry.

Koni shocks

Elephant Racing polybronze bearings

Hollow torsion bars

The car was aligned & corner-balanced.
Additional Performance & Cosmetic Work:
There was slight rust in the floor behind the driver's seat and under the battery box, and the driver side of the floor-pan and the battery box were replaced to exact Porsche factory specs by Urs Gretener of Gretener Prototye Engineering/Corroserie Gretener. Gretener also installed the rollbar.
There was also slight rust in the seams where the front fenders mount to the tub (fortunately all on the fenders) and in the door bottoms. Repairs and a complete repaint in the original color of Bahama Yellow were done by AutoWerks of Bend, Oregon.
The interior, including carpets, dash, door panels and headliner was done by Autos International.
H1 Headlights (of course!)

Through-the-grille Bosch fog ligh

There are two sets of seats:




Replica Scheel R2's, made by Vintage Seat

NOS factory rally bucket driver's seat & passenger's lightweight sport seat (ca. 1967-1968)
Roll bar modifications, including head restraints, were done by German Master Tech in Bend, Oregon.
Four sets of seat belts:
Period Autoflug 4-point

Schroth 5-point harnesses for sports applications

Retractable 3-point belts for street

Aircraft style lap belts

Two hoods:




Original hood mounted with NOS Cibies for street & rally use

Second hood painted in original color with no lights used for track, autocross and hill-climbs
Lights
Throught-the-Grille driving lights (NOS grilles)

Cibie hood mounted lights

NOS turn signals
Two Rear Bumper Configurations
Set of bumper guards with factory nudge bar mounted

Second set of stock bumper guards with no nudge bar
Two sets of wheels & three sets of tires:
For street use, NOS 911R 7×15's in the rear (with 22mm spacers) and deep six with hearts 6×15's in the front – the same combination that the Porsche factory used on the 911R. Yoko AVS 225/50's are mounted on the rear and 205/55's on the rear. The inside of the fenders have been slightly shaved to accommodate the larger size wheels and tires, but no flares have been installed.

For shows, a set of period Dunlops, 500M-15 in the front and 550M-15 in the rear mounted on the same wheels as the Yokos

For sports purposes, a set of 7″ wheels are mounted front and rear, with Yoko AO32R 225/50's front and rear.
Planned Uses
As mentioned, this is a purpose built car that has three possible configurations: show, street and track. It's first track event was a Porsche DE day at Portland International Speedway where I drove it in Novice Class. Driven by an instructor in Expert Class it held it's own against Turbo's, GT3's and the like. It recently ran at Infineon (Sears Point), driven by Tim Morris my mechanic, and performed well. Jeff Gamroth of Rennsport in Portland made a few recommendations regarding performance, mainly wheel and tire size, that have been implemented.
Configurations
Show – Factory Correct Rally Build for Shows includes:
Original hood with hood-mounted Cibies

Through-the-grille fog lights

7×15 911R wheels in the rear and 6×15 deep sixes in the front with period correct Dunlop racing tires

Dansk muffler

Factory correct roll bar

Period correct Autoflug 4-point harnesses

All NOS rally accessories listed above
Street – Street use configuration includes:
Original hood with hood-mounted Cibies or second hood with no Cibies

Through-the-grille fog lights

7×15 911R wheels with Yokohama AVS ES100 225/50 street tires in the rear and 6×15 deep sixes with 205/55's in the front

Stainless sport muffler

3-point retractable seat belts

5-speed short gear 901 transmission

Sport Seats or Scheel R2 seats
Track – Track configuration includes:
The original hood with Cibies is replaced by a second hood with no lights.

Heavily modified sport muffler (read unrestricted) with dual outlets




7×15 Fuchs with Yokohama AO32R 225/50 semi-racing tires front & rear

Racing roll bar

Schroth 5-point harnesses

Scheel R2 seats
Interior Set Up For A Track Day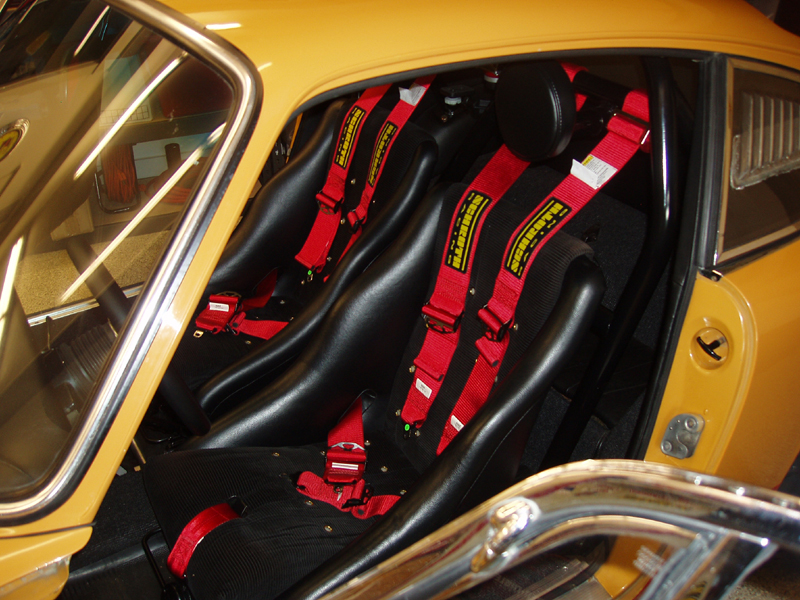 There are also configurations for auto-cross, rally and hill-climb.
Summary
My goal was to be respectful of the authenticity of this car during its build. Despite extensive performance modifications, it's still an authentic SWB 911 a few nuts & blots away from its original configuration. It still has its original engine case, original transmission, original panels and original color. It's performance modifications make it a great car for simply driving in a spirited manner on the back roads of Central Oregon — or for a variety of sports purposes. Out of about 30 Porsches that I have owned this is my all-time favorite.
Pictures from 2009 Carmel Concours:
---

© 2015 ~ Audette Collection ~ Bend, Oregon
Concours Restoration of SWB Headlights & Turn Signals and H1's ~ Email