H1's are Rube Goldberg devices that work very,, very well. Comprised of two reflec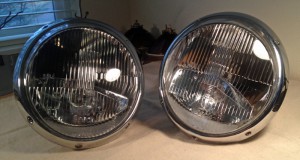 tors and two bulbs, one for low beams and one for high beams, they give you the ability to adjust each separately. And with the use of high power 100w and 55w bulbs they do a great job of lighting up the road ahead. They're easy to identify as they have four adjustment screws in the chrome trim ring as compared to the two screws found in H4's and most other lights. The fluted lenses use Fresnel technology (the same technology used in almost all lighthouse lenses, invented in the early 1800's). The fluting is on the same side as the driver: left side for LHD and right side for RHD.
Unfortunately production of H1's ceased many years ago and it is getting increasingly difficult to find parts. While I may occasionally have some for sale, my main focus is the restoration of core sets sent to me by their owners. Restoration is to a high standard and includes the following:
 Restoration Process
Reflectors – stripped, copper plated, nickel plated, polished, followed by vapor deposited aluminum plating and a protective silica layer – Why aluminum?
Housings – media blasted and VHT painted


Lenses – new with correct Bosch lettering (inside of lens)

Lens Gaskets – new

Chrome Trim Rings – new

Adjustment Screws – new with nyloc nuts for easy removal

Fender Mounting Screws

Fender Mounting Gaskets – new


Adjustment Instruction Labels – exact reproductions

Bulbs – new, 55w/100w

Bench Tested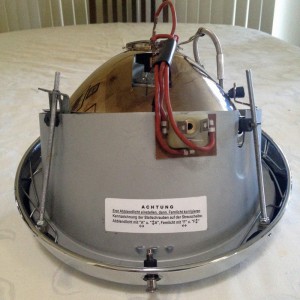 The process takes time as it involves two platers. The first plater does the first steps of stripping, copper plating, nickel plating and polishing. They are then sent to the second plater for the vapor deposited aluminum process followed by a protective silica layer. All the parts are then gathered for final assembly. Timing is mostly determined by the platers' backlog and usually the process takes 2-3 months from start to finish.
Are your reflectors in good shape? Check out H1 Refurbishment.

---

© 2015-18 ~ Audette Collection ~ Sisters, Oregon
Concours Restoration of Porsche SWB Headlights, Turn Signals, H1's & H4's ~ Email