Plug & Play For: 1965-1994 911's and 912's
Starting at $1,095.00

I usually prefer originality, but there are times when practicality is more important. Such as driving a Porsche at high speed at night. There is simply no comparison between the best halogen headlights and LED headlights. Once you have driven with LEDs they feel like they're as important a safety feature as seat belts. Here's what the owner of a '72 911S had to say after driving with LEDs:

I can't believe the difference between halogens and LEDs. On low beam the LEDs seem brighter than my old systems on bright. My old systems on low beam is about equal to driving with the new systems and wearing sunglasses. I've had them 3 months and I haven't had one on-coming car flash their brights at me. Night time driving is now a whole new world to enjoy those few hours I have time to take the car out. It's funny: As I pass road side signs, they reflect back so clearly I almost need to wear sunglasses.

So my experience says if you have an older car and interested in seeing MUCH better at night, these lights are the solution. Maybe 5 min installation. They are slightly heavier but only maybe a couple of pounds. And "it is not a race car" anyway. They were an investment…with big payoffs.
I recently built a set of LED headlights (along with LED turn signals) for a friend who lives in Alaska – where it's dark dark and there are lots of critters – and it worked out well. That motivated me to research the various options available for LED lighting in Porsches. I ended up testing three brands: TruckLite 27270C; JW Speaker 8700 Evolution 2; and Nolden Pilot VP-3106B. They all reviewed and tested well and I settled on offering the JW Speaker 8700 Evolution 2 LEDs, a perfect match in performance and quality for our Porsches..
---

JW Speaker 8700 Evolution 2 LED Headlamps
I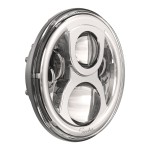 selected JW Speakers as my LED offering for the following reasons:
Highest performance in my testing

Great beam pattern

Consistent rave reviews by owners

JW Speaker's long reputation high quality

Their manufacture in Wisconsin with great support

Lifetime warranty

DOT and Transport Canada compliant

ECE certified
In-Depth Study of High Performance Headlights

If you would like to geek out on LED lighting like I do you will want to check out the following study. Jeep owners are enthusiastic LED users and the JKOwners Forum published an in-depth study of various high performance headlights, including TruckLites and JW Speakers:
Headlight Shootout! – By Gil ""usmcdoc" Fortin
Best "JW Speakers are by far the best headlight I have ever seen."
JW Speakers outshone the Truck-lite and pretty much all of the competitors. Better output and better clarity but you get a smack in the face of price that makes people pause. The price to me is not the issue, you see a LED is going to last as long as 50+ Halogen bulbs. So even if you are spending $20 a light for replacement bulbs you are still above the price of an LED headlight. So this is one of those buy and forget about it purchases. Don't get me wrong, the Truck-lite did very good and would be a nice entry into the LED market. The difference between the two is what you can achieve with solid optics vs. reflector design with a LED. The light from the J.W. Speaker just left it and everything else in in the dust. The J.W. 8700 Evolutions put out more light at distance and much, much more evenly.
JW Speakers are by far the best headlight I have ever seen. They are ridiculously well made and designed and are worth that kind of money. I understand the value over time of owning them, they last as long as 50+ halogen bulbs or 20 something HID's, that is a LONG time. No moving parts or bulb to break and a very low amp draw are even more selling points. I learned a while ago that rarely sometimes you do get what you pay for. I was seriously skeptical of the value of these lights and I am glad I was proven wrong.
Beam Pattern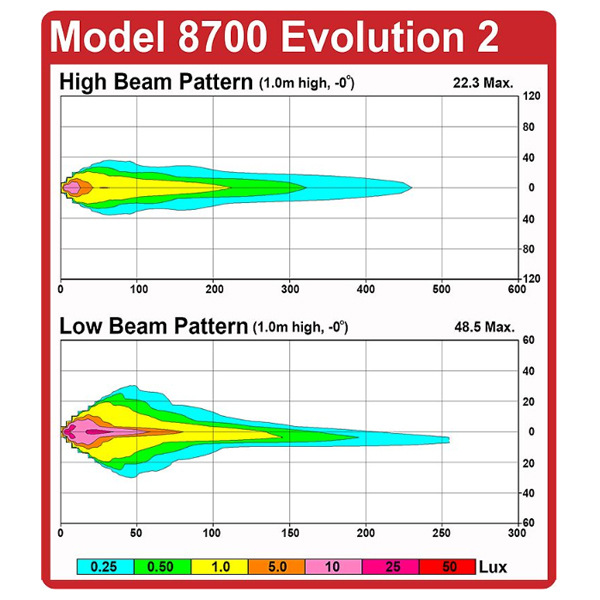 The low beam illuminates the road ahead – and the shoulders – to a width of 30 meters, almost 100 feet. Nice in areas where there are animals to watch out for out night. And the high beams project out 450 meters – that equals 1,476 feet or 492 yards. That's well over a 1/4 mile, almost 5 football fields!
A Generation Ahead
Here are some pictures comparing JW Speaker first generation LEDs with the current generation. I think they're a generation ahead of most LEDs.
Early Buyers Feedback
I will be collecting feedback from current owners moving forward and will post it here: Reports from early users
Video of JW Speaker 8700 Evolution 2 performance on Jeep Wrangler

Here's a short video of the on road performance of the JW Speaker Evolution 8700 2 LED headlights mounted on a Jeep Wrangler:
JW Speaker LED Assemblies with Chrome Bezels & Clear Hella Lenses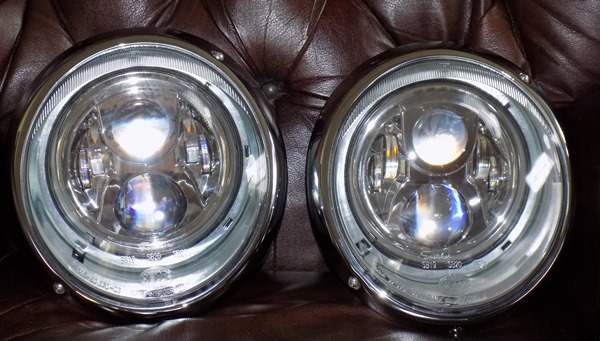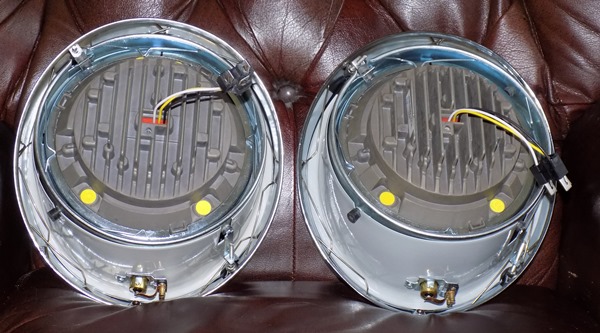 JW Speaker LED Assemblies with Chrome Bezels & Fluted Lenses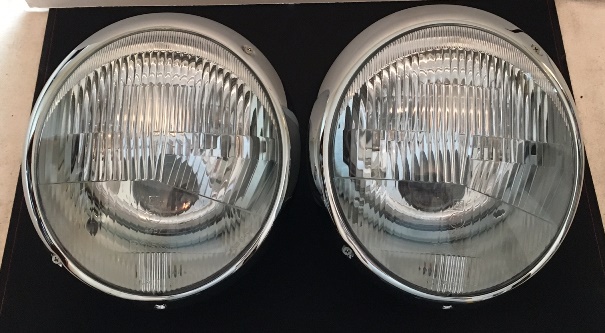 ---

To Buy – North America – Starting at $1,175.00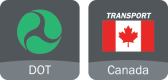 Assemblies are built to order. They are available for North America in chrome (PN 0549711) or black (PN0549701) bezels and chrome trim rings are standard. You can also order them with black or primered trim rings. If you have H5 headlights you will need an H5/H4 adapter, available for $27.00. Otherwise installation is plug & play. Delivery is 8-10 days.
JW Speaker 8700 Evolution 2 LED DOT Headlights:
Standard Clear lenses: $1,175.00

Premium Hella Clear Lenses: $1,295.00

Premium Fluted Lenses: $1,325.00
JW Speaker 8700 Evolution 2 PN 0550211 & 0550221 Specifications:
12-24V DC input; 3.00 amps (high beam); 2.0 amps (low beam); Raw Lumens: 1770 (low beams; 2610 (high beam); Effective Lumen Output: 750 (low beam); 1150 (high beam); Lens Material: Polycarbonate;  Housing Material: Die-Cast Aluminum; Wiring: black=ground, white=high beam, yellow=low beam; Weight: 2.4 pounds; DOT & Transport Canada Compliant; Buy America Compliant; Lifetime Limited Warranty
---

© 2016-18 ~ Audette Collection ~ Sisters, Oregon
Concours Restoration of Porsche SWB Headlights, Turn Signals, H1's & H4's ~ Email