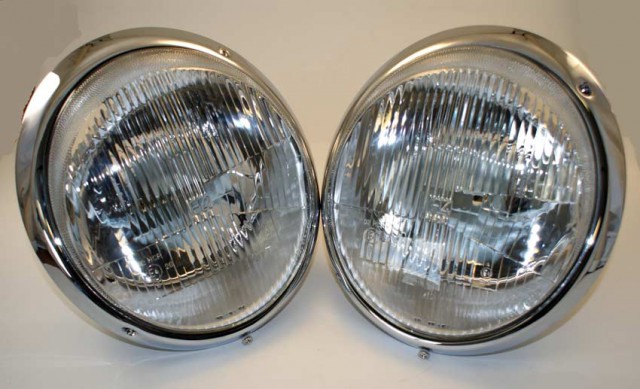 You can identify H4's by the fluted lens with "H4" in the middle and a pebbled top and the two adjustment screws in the chrome trim ring as opposed to the four screws used on H1's.
H4's are great headlights. While they only have one dual filament bulb and one reflector and lack the flexibility of adjustment that H1's have, they are far simpler if repairs are needed. And, unlike H1's, they are currently available. They are relatively expensive however (most vendors sell them for $900.00+ for a pair) and the ones currently offered are not exactly the same as the ones that were produced back in the day.
H4 History
H4's were essentially an evoluntionary step from the headlights used on cars delivered outside of the U.S. (RoW) from '64 through 1972. Lights from that era had a single large reflector with no city light, a incandescent bulb with a P45t base, and fluted flat lenses (that look nice as they match the slope of the fender). The change to what we call H4's occurred when the double filament H4 bulb was introduced in 1972. Along with the bulb change a new lens was added with the "H4" lettering in the middle, with a ridged top lens, and with a new bulb holder for the new P43t halogen bulb. It was easy to upgrade the older lamps by substituting the incandescent bulb with a specially made H4 bulb with the old P45t base
H4's are correct for the LWB longhoods. Many use them on SWB cars and they look and work great, but they will get penalized at high end concours events for being incorrect for the period. Also, the early H4's produced in 1972-1973 did not have city lights which were introduced starting in 1974. Therefore to be absolutely correct, H4's mounted on '72-'73 longhoods should not have city lights.
Restoration and Refurbishment of H4's
H4's are expensive and originals are are worth restoring or refurbishing. Originals made by Bosch in German are superior in quality to the H4's that are currently being produced in Czechoslovakia. Original reflectors and buckets are of significantly heavier duty material. Plus the new ones come with the funky AL lettered lens rather than the original and correct Bosch lettering. And it costs substantially less to do a full concours restoration than to buy a new pair.

Restoration
I restore H4's to a concours level. Here's what one customer posted at the Pelican Parts Forum after receiving his H4's:
Today, I received my restored Bosch H4s from John Audette . Based on John's excellent reputation, I had really been looking forward to these; eager to see how they would dress up the front of The Black Swan! The first thing I noticed was that this pair of headlights were properly packed, double boxed and bubble wrapped. When I opened the box, the lights looked like jewelry to me! The boxes included new seals and new mounting screws, and a handwritten note from John.The H4s were easily installed and I am delighted in the "new look." Throughout, John was great to deal with. I appreciate his attention and his competent help. John is a first rate guy with first rate products… thanks, John! ~ Rob / Ft. Worth, Texas
Restoration includes the following steps:
Reflectors – stripped, copper plated, nickel plated, polished, followed by vapor deposited aluminum plating, silica layer – Why aluminum?

Housings – media blasted and powder coated

Lenses – new with correct Bosch lettering


Lenses Gaskets – new

Chrome Trim Rings – new


Adjustment Screws – mounted with nylon lock nuts for easy removal

Fender Mounting Screws

Fender Mounting Gaskets – new

Bulbs – new Tungsram Megalite +120


Bench Tested
---

© 2000-2022 ~ Audette Collection ~ Bend, Oregon
Concours Restoration of SWB Headlights & Turn Signals and H1's ~ Email