Plug & Play For: 1965-1988 911's and 912's

I usually prefer originality, but there are times when practicality is more important. Such as driving at high speeds at night on the Autobahn. Or driving at night at any speed in places such as Alaska where dark is dark and there are critters roaming everywhere.
Speaking of Alaska… I recently built a set of LED headlights (along with LED turn signals) for a friend who lives there and it has worked out well. The build is very similar to the restoration of SWB U.S. sealed beam headlights. I use Hella buckets and mount LED headlights in place of the sealed beams.
For the U.S. – Truck-Lite 27270C LED Headlamps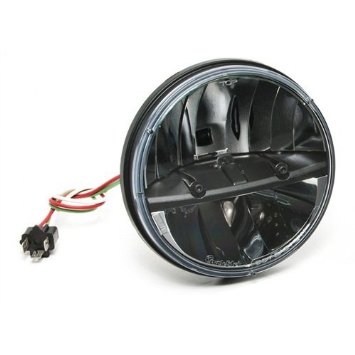 After a great deal of research I selected the U.S. made Truck-Lite 27270C LED headlamps. (Note that these are DOT/SAE approved and are legal in the U.S. but they have not received ECE approval for Europe yet.) They have received uniformly high ratings and the price is attractive. Here's a typical review from FerrariChat:
The light has two separate compartments, with two separate LEDs – the top compartment has the low beam LED, and the bottom compartment has the high beam LED. This is what gives this light superior output to a regular H4 halogen light, and better than any H4 reflector with a HID or LED bulb substituted – the optics are designed specifically for the LED. On low beam, just the upper LED is powered, and on high beam, both the upper and lower LEDs are powered.

From all other reports the light output is brighter, wider, and deeper than any halogen light, and also better than HID lights. If you're looking for a lighting upgrade that at the same time eases the load on the electrical system and doesn't require modifying the wiring harnesses with relays, check these out.


Links to more reviews at the bottom of this page
They're also very popular with motorcycle owners and can be found on many Harley-Davidsons. The low beams cast a very wide light illuminating the shoulder and the high beams project far down the road. Construction is bomber high quality, They're waterproof and shockproof, have a low current draw (don't even require a relay kit unlike halogen headlamps, and they plug right in to existing wiring.
Picture of the pair I just built for Alaska: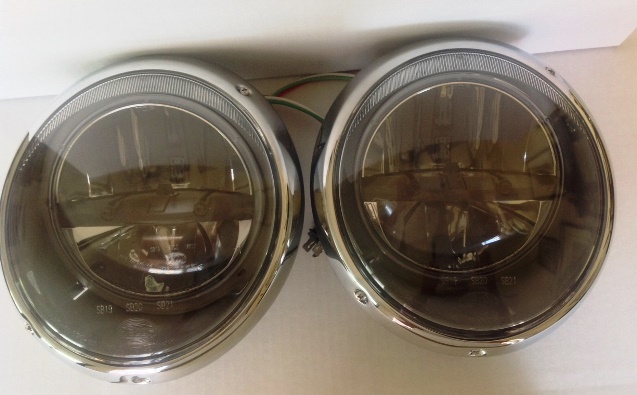 If you drive in an area with difficult night driving conditions these are worth considering, especially if your everyday lights are sealed beams. It's easy to swap them back and forth and you will be able to drive much more safely at night.
Here's a comparison of the Truck-Lite LEDs to the stock headlights of a 2012 Jeep, both high beam as posted on the Jeep Wrangler forum:
Here's a short YouTube video comparing driving with Halogen headlights vs. LEDs:
LED headlights are made to order, production time is 3-4 weeks. 50% deposit with balance due when the headlamps are ready to ship.
Price: $1,190.00 per set

Email or call to order or for more information.
Truck-Lite 27270C Specifications:
Material: Hard-coated polycarbonate lens eCoat aluminum housing and internal structures Metalized Reflector 16 Gauge Wire Light Source: 2 LED Arrays 9v-33v Multi-volt design works with both 12v and 24v systems Designed At: 12.8v, 1.80a (low beam), 3.60 amps (high beam) 25.6v, 1.00a (low beam), 1.80 amps (high beam) 1,300 Lumens Additional Specifications: Operating temperature range: -40˚C to 50˚C Overvoltage protection to 600v, w/constant output
---
 For Europe – Pilot Nolden VP-3106B LED Headlamps
I have found a highly rated option that has both SAE and ECE approval, so legal in the U.S. and Europe: Pilot Nolden VP-3106B. I've ordered a set and after building them using older Hella buckets I will test them side by side with the Truck-Lites. The Pilot Nolden LEDs come in either chrome or black, here's a picture of the chrome one: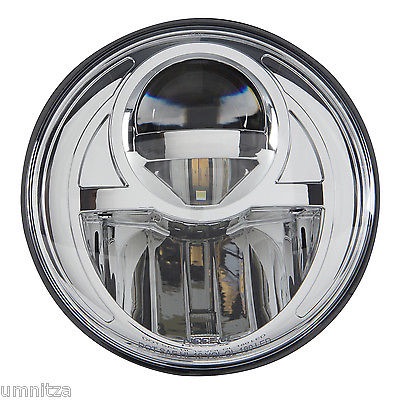 Interestingly what are called "position lights" (referred to as "city lights" in the Porsche world), the small 4w bulbs, are required on these in Europe. I intend on using the older Hella housings that have the city lights built in and will work perfectly for these lamps.
Please note that these are in the testing stage and I will be offering them if results are satisfactory.
Pending – Estimated Price: $1,450.00 per set

Email or call to order or for more information.
Pilot Nolden VP-3106B Specifications:
Innovative design with the latest automotive approved Osram LED technology

White road Illumination compatible with HID/Xenon

One of the brightest LED High and low Beam 7" Headlights available

Lifetime > 30.000 hrs

Low power consumption saving both fuel and energy

Vibration and shock proof design

Integrated electronic driver

H4 connector for 'Plug & Play' installation

Standard fixing as 7" Sealed Beam Headlights (PAR56)

UV resistent PC hard coated front lens

Rigid Aluminium Housing

Available in chrome, dark-chrom finish, black

Voltage range 12-24V

480h salt spray tested and fully water proof to IP6K9K

ECE homologation

EMC tested and homologated

Left hand drive and right hand available

Development and Production according to ISO TS 16949

Warranty: 3 years
---
 Reviews of LED Headlights
GE 7″ LEDs (rebranded Truck-Lites) – Amazon Review by 911 Owner



I have a 72 911. It is restored and mostly original. But it is not a show car and not a race car. It is one heck of a fun street car: light, powerful, turbo brakes and bigger rubber with SC flares.

The worst part of the car were the lights. I tried most of the various "high performance" options like brighter sealed beams and even brighter H4 systems. They were not as "fast" as the car was on country 2 lane roads. The car is most fun in those settings but I needed to see better at night to feel more comfortable.

I'd heard about HID. They are complicated systems. Then I stumbled on these LED lights. If I was going to make a leap of faith I would give LED and GE a try. LED is a MUCH simpler system and I figured if I had a problem GE would stand behind it. I knew LED would last forever but wasn't sure how bright the technology could be.

I can't believe the difference. On low beam they seem brighter than my old systems on bright. My old systems on low beam is about equal to driving with the new systems and wearing sunglasses.
AND I've had them 3 months and I haven't had one on-coming car flash their brights at me. Night time driving is now a whole new world to enjoy those few hours I have time to take the car out. It's funny: As I pass road side signs, they reflect back so clearly I almost NEED to wear sunglasses.

So my experience says if you have an older car and interested in seeing MUCH better at night, these lights are the solution. Maybe 5 min installation. They are slightly heavier but only maybe a couple of pounds. And "it is not a race car" anyway. They were an investment…with big payoffs.